The Liberal Catholic Church offers open communion. 
Everyone whether single, married, unmarried with children, divorced or divorced and re-married is welcome to receive Holy Communion as long as they approach Christ's altar with reverence and respect.
Are You a Liberal Catholic & Don't Know It? Read this Page to find out.
Prayer Project
Started by the Order of Our Lady and the ladies of OLQA after the 2011 Triennial Clerical Synod with the support of the US Regionary Brishop, the Prayer Project prays for the friends, family and other loved-ones "in trouble, sorrow, need, sickness, or any other adversity." (Liturgy of the LCC)
Learn more about the Prayer Project.
About The Liberal Catholic Church
The Liberal Catholic Church is an independent Catholic Church. Our heritage comes from the Old Catholic Church, which separated from Rome in 1870, when Pope Pius IX declared that he was infallible on matters of faith and morals. In 1916, the Old Catholic Church in Great Britain changed its name to the Liberal Catholic Church. We have strictly maintained the Apostolic Succession since our original affiliation with Rome, to ensure that our Holy Orders and Sacraments remain valid.
Open communion is offered to all who approach Christ's altar with reverence and respect. More…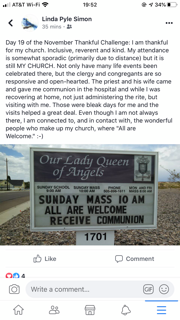 Our Lady Queen of Angels
1701 Tulip Rd SE
Rio Rancho, NM 87124
(505) 896-1611